Blur close Hyde Park during Olympic closing ceremony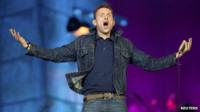 Blur have headlined a gig to mark the closing of the London Olympics.
The Hyde Park concert, billed as the Best of British, was scheduled to coincide with the closing ceremony.
They were joined on stage by actor Phil Daniels and comedian Harry Enfield, who was dressed as a tea lady, and played hits like Song 2 and Parklife.
The sold-out 60,000 crowd also saw performances from support acts Bombay Bicycle Club, New Order and The Specials.
New track
Blur, playing the venue they most recently performed at in 2009, arrived on stage at 9.15pm to loud cheers and dived straight into Girls And Boys.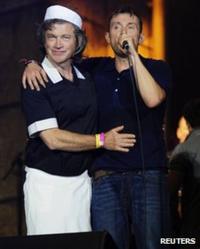 After performing tracks including Beetlebum, Coffee And TV and Country House mid-set front man Damon Albarn dedicated the band's 1997 hit Song 2 to Team GB medalist Mo Farah, describing him as an "inspiring human being".
Albarn said: "What an extraordinary couple of weeks it's been for the Olympics."
The set design for the stage featured a large replica motorway flyover in reference to the group's most recent track Under The Westway.
Albarn said the song, which was written in February 2012, was written with the Olympics and this gig in mind.
They finished with an encore which featured End Of A Century and closer The Universal.
Albarn, clearly moved by the reception from the audience, stood still on the middle of the stage before bidding them "goodnight".
There had been speculation as to whether this would be the band's final show, although they made no reference to that on stage.
They have no further tour dates confirmed.
Speaking to the BBC before the gig bassist Alex James said: "We may never have done anything again if it hadn't have been for the trigger of being asked to do this show. We felt it was something we couldn't turn down."
Fan Freddie Kean, 16, from Winchester said: "Damon did look quite upset when he finished the final song. They're a great band."
After the band left the stage the remainder of the crowd was shown the final stages of the closing ceremony on big screens.
Blur's headline gig came 16 days after a concert featuring Snow Patrol, Duran Duran, Paulo Nutini and Stereophonics kicked off a fortnight of entertainment at the central London park.