'Patchy' support for families of child porn suspects
"We're coming through the door. Sit in that room. Don't move."
Charity worker Alice Newman says those words too often describe the attitude of police officers to the families of child porn suspects.
She describes support and advice services for those people as "patchy" and "inconsistent" around the country.
The Lucy Faithfull Foundation supports sex offenders and their families.
Alice Newman says the charity's aim is to try to stop them repeating harmful behaviour.
An offender's son
Radio 1 listener Chris says his father's use of images that showed child sex abuse pulled his family apart.
He texted Newsbeat to say he was still angry at his father but also that his mother, his sister and he were "treated like criminals" by officers investigating his father's case.
Andy Baker, deputy chief executive of the national Child Exploitation and Online Protection agency (Ceop), says it's not always easy for officers to know who in a household may be an offender.
"Offenders and their families should of course be treated by officers professionally but these are complex and time-intensive investigations," he says.
He also explained that where children are in the home, "an appropriate child protection strategy should run alongside the investigation to minimise any harm to these family members and to safeguard them".
An offender's wife
Erica, not her real name, reported her own husband to the police but they didn't raid the family home until more graphic pictures were later found at his work.
She also says she felt she was treated like a criminal.
She claims she and her daughters had to be watched getting dressed and going to the toilet by a male officer because there were no women involved in the police raid.
Detective Chief Inspector Noel McHugh heads up the Metropolitan Police's paedophile unit that covers the whole of London.
"I can't comment on that as an individual case, and it's not a Metropolitan Police case," he says. "But on our teams we have a strong representation of women officers where possible."
An offender's story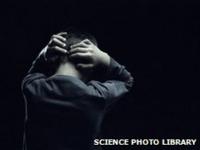 Peter, not his real name, was found with thousands of what he calls "indecent images of under-age girls and some movies".
He didn't go to jail but was put on the sex offenders register after being convicted.
As a grandfather, he says his behaviour has caused his family "irreparable damage that may never heal".
He claims social services overreacted by trying to remove his grandchildren from their parents, after they allowed him to still see them in supervised visits.
A Department for Education spokesperson said: "Children's welfare and protection is paramount."
Andy Baker from Ceop added: "It is also right that those suspected of possessing indecent images of children are treated as a danger to children until proven otherwise."
Tweet Newsbeat's politics reporter: @DaveHow4rd