Nicola Adams: Winning Olympic boxing gold medal surreal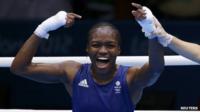 Nicola Adams has become the first female boxer to become an Olympic champion.
She beat Chinese rival Ren Cancan in the flyweight final at east London's ExCel centre.
Adams, 29, had lost to Cancan in the finals of the 2010 and 2012 World Championships but this result was never in doubt after she knocked the Chinese boxer down in the second round.
The Leeds fighter beat her rival 16-7 and took Team GB's gold medal tally to 24. That total now stands at 25.
Were you impressed with the support you received?
"I can't believe the support that we've had through the boxing. It's been amazing.
"I'd like to say thank you for everybody that's been watching at home, in the arena and following on Twitter. Everybody's been great."
Talk us through that punch in the second round.
"I was thinking, 'I need to get some more points, get some more points on the board. I want to get really in front.'
"I wasn't expecting her to go down. When she went down I was so surprised and amazed.
"I was like, 'Yes. Yes. I've got this in the bag.'"
You've had to overcome a lot to be here haven't you? You even fell down some stairs.
"I was an extra on Coronation Street and Emmerdale. It's been a long ride coming back from a serious back injury.
"I didn't even think I was going to make the Great Britain team never mind come back and get a gold medal. I'm over the moon."
You've made history.
"It's quite mad. I can't believe how much I've achieved for Great Britain. It's nice to have us on top for once."
What would it mean for you to inspire women to get into boxing or other sports?
"It would mean a lot to me.
"That would be the icing on the cake for me, getting more youngsters into sport and trying to achieve what we're doing today.
"I hope it's inspired the next generation."