Radio 1 DJ Fearne Cotton and Jesse Wood expecting child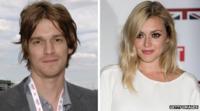 Radio 1 presenter Fearne Cotton has announced she is expecting her first child.
The 30-year-old made the announcement on her official blog, before tweeting "Jesse and I have some news!!!!!" to her 3.5 million Twitter followers.
"Jesse and I are very happy to announce we are having a baby."
The DJ, who presents the late morning show on Radio 1 between 10am-12.45pm, is dating Jesse Wood, the son of Rolling Stones rocker Ronnie Wood.
Cotton did not reveal how far along in her pregnancy she was.
"We are over the moon, morning sickness aside (me, not Jess) and looking forward to the little Cotton Woods arrival," she said.
'Over the moon'
At the beginning of her Radio 1 show on Thursday (9 August) Fearne Cotton said it had been a relief to reveal the news.
"I'm over the moon. I'm very happy," she said.
"I sighed a big sigh of relief now I'm able to tell people. I was really overwhelmed with all the messages yesterday."
She has been congratulated by a number of celebrity friends including Mel C, fellow Radio 1 DJ Greg James and the new Radio 1 breakfast show host Nick Grimshaw.
Singer Ellie Goulding tweeted: "oh my god!! Congrats Fearne!!!!!!"
Fearne's Celebrity Juice co-host Keith Lemon also tweeted his happiness at the news, saying: "I am so happy for you Fearne. Honestly. Greatest news ever. Can't wait to see your milk trucks. Love Keith x."
A spokesperson for Radio 1 said: "We couldn't be happier for Fearne and Jesse following the news of their pregnancy.
"A decision on Fearne's maternity cover will be taken in due course."