Owl City and Carly Rae Jepsen team up after huge hits
15 August 2012

From the section

Music
So far this year Carly Rae Jepsen's track Call Me Maybe has sold more than 7.3 million copies around the world, topping the chart in the UK for four weeks and the US for nine weeks.
The song's international popularly is huge - arguably bigger than the artist herself.
Adam Young, AKA Owl City, says he knows how she's feeling right now.
Like Call Me Maybe his track Fireflies went to the top of the US chart seemingly from nowhere in 2009. It stayed in the chart for 32 weeks.
Having topped the charts in everywhere from Finland to Ireland, Australia to Belgium it eventually finished the year as the UK's fourth biggest-selling single in 2010.
The pair have now collaborated on a new track called Good Time.
Hit pressure
"I feel like Carly's going through a few things now that I had a taste of a few years ago with my single Fireflies," says Young.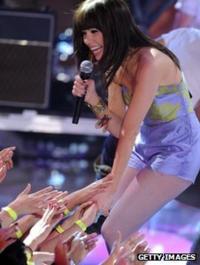 "I've never known anybody that that's happened to before that I've been able to talk about that with."
The pressure of the success of that track has followed him ever since.
Owl City's follow-up single Vanilla Twilight peaked at 72 in the US and fell out of the chart after five weeks.
Initial signs are positive though. Good Time is already Owl City's highest US charting track since Fireflies.
Young said Jepsen asked him for advice.
"The most important thing in the world is sincerity and I think she's got that. I just said, 'I'm with you on the same ride in a way.'"
Fireflies follow-up
It's not like Owl City hasn't tried to move on from Fireflies. Since the success of his 2009 album Ocean Eyes he released another in 2011 All Things Bright And Beautiful.
On his new album The Midsummer Station there's a track called Dementia (featuring his hero Mark Hoppus from blink-182) which charts some of the discomfort he felt with his sudden success with Fireflies.
"It's almost like I'm schizophrenic because there are two worlds in my life," he says.
"One is at home where life has not changed at all since the success has happened. Then there's the touring world, everywhere else. I'm like two different people. Trying to find that balance… if you allow that to drive you crazy it will."
As Fireflies sped to the top of the charts around the world and millions of fans clicked on his YouTube videos, he says he found it all challenging to deal with.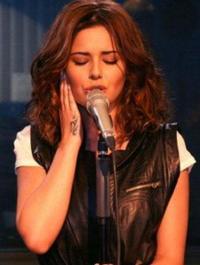 He suddenly went from making music in a bedroom basement in rural Owatonna, Minnesota, to having Cheryl Cole cover his song.
He says he struggled with all the "noise" he had to get used to.
"Based on where I'm from and my limited social fingerprint compared to where I am now playing a show every night in front of thousands of people every night. Shaking hands with a million people I've never met.
"It's just so new for me. I didn't know how to do it because I'd never really done it before and I never really wanted to do it per se - which is the irony in all this.
"Just all these new people, so many new people - that was a big thing for me."
Curse of a hit
Three years later though he says he's coming to terms with life as an international pop star.
"I feel like I've figured it out. A big part of it was teaching myself not to care too much - not to overthink what's coming next.
"The blessing and the curse of a big hit like Fireflies is people saying, 'Can he do it again?' or 'What's coming next?' 'Flash in the pan' - all that kind of thing. To just let that stay and not worry about that.
"I don't want that to negatively influence the music as far as being, 'Ah, that's got to be more commercial sounding or whatever.'"
Owl City's album The Midsummer Station is released on 20 August.