Owl City could release 'screamo rock' album in the future
9 August 2012

From the section

Music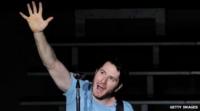 Owl City singer Adam Young says he would love to record and release a "screamo-rock" album in the future.
"It would take people off guard because here's the Owl City guy doing screamo stuff - I would love to do that," he said.
The Minnesota singer was formally a drummer in heavy rock band Isle before he achieved global success with his track Fireflies.
That song was the fourth biggest selling single of 2010 in the UK.
The song also reached number one in the US in 2009.
"Growing up I was really into the whole underground, obscure, artsy, heavy, screamo, chaotic, angry, angst music," he said.
"I love it. That was my thing - that's what I identified with.
"I grew up wanting to do nothing else except for that," Young added. "I haven't had a chance to do it, and do it right.
"I feel like I could do it right. Do it all myself and record it all and make it sound good. It's tempting.
"It might go over the heads of my fans but it might open some new doors and that's what it's all about.
"Every now and again I need to put on one of my old records which make me feel that same thing. There's a place for that."
Owl City release their fourth album The Midsummer Station on 20 August.