The future of Portsmouth FC: A fan's view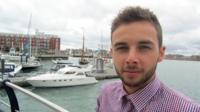 The first Portsmouth game Mike Spencer went to see was against Queen's Park Rangers when he was a young boy. His dad took him.
"It was at Fratton Park and I didn't want to stop going after that," he said. "My family wouldn't have let me have it any other way."
The 20-year-old, Portsmouth born and bred, has followed the club through the highs of the club's FA Cup win in 2008 to the lows of the last year.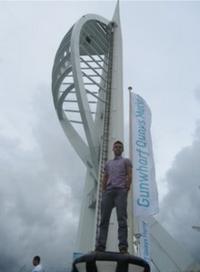 The club could be liquidated this Friday (10 August) after years of different owners, administration, league relegation and debt.
Administrator Trevor Birch says that could be prevented though if all the senior players either leave the club or they reach an agreement to bring down wages.
"It's hard to comprehend thinking it'll all be over and it'll have to go down to a brand new club," he said. "It's quite demoralising.
"I want to take my kids to the same Portsmouth football club that won the FA Cup, not a different one that's been reformed.
"That's not just a fan's view. Everyone in the city takes the club to its heart. It's a footballing city."
If they survive beyond Friday, Portsmouth's first League One match will be with Bournemouth. But they'll start with a 10-point deduction.
Mike explains who the main players are in the latest saga for the club.
Balram Chainrai (former chairman)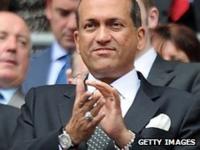 "Chainrai was the guy who pumped money into the club a few years ago. It totalled around £17 million.
"He became the chairman for a while, then he left the club and put other people in charge. Everybody knows, quite publicly, that didn't go so well.
"He's come back because he wants his money back. I don't blame him and at the same time I don't think you can't blame him for all of this."
Chainrai is currently vying for the club with the Portsmouth Supporters Trust.
Portsmouth Supporters Trust - PST (group of fans looking to buy club)
"A lot of people wrote off the PST as soon as it was set up because of the volume of money that was needed.
"Seeing our club in jeopardy was hard to take for all our supporters. The fans did everything they could, there is a resulting bid and I'm glad we've done it.
"If they were to take over I'm sure it would be run differently and more sensibly."
Tal Ben Haim (Portsmouth player)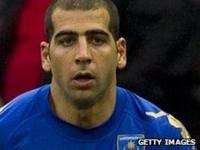 "He's been at the club for a few years and is on a high wage bill. He's by far our highest paid player on more than £30,000 a week."
"He plays a crucial role in the next week or so.
"If he can come to some compromise over his contract then there is a future for the club. He's the crucial piece of the puzzle."
The former Chelsea player has already said the administrators PKF will be blamed if the club do goes into liquidation.
Trevor Birch (administrator, PKF)
"A lot's been said about him but things need to be sorted before you can point fingers.
"We have seen progress with players leaving and the wage bill coming down. That's a positive.
"Some people argue he's a bit lethargic in relation to the contact between the players, the club and the administrators."
Michael Appleton (current manager)
"He came up the ranks at West Brom. I think they were planning to mould him to become the first team manager but we stole him.
"He's got a lot of people who want to play for him and he's a real prospect for the future.
"You can see the current team do have a lot of respect for him."