Professor Green blasts his own record label on Twitter
7 August 2012

From the section

Music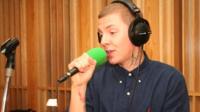 Professor Green has accused some of the employees at his record label of not doing their jobs properly.
The claims appeared on the rapper's official Twitter account on which he has 1.2m followers.
"Why would your own record label hinder you?" he asked before adding "answers on a postcard".
The star who's signed to Virgin Records seemed to suggest he wasn't getting value for money from his employers.
"How would you feel if a company taking 25% of your earnings weren't doing their jobs properly?"
Professor Green, real name Stephen Manderson, explained he hadn't been happy with his situation for a while. And that he knew other artists with similar problems.
"Dignified silence is pointless. A rushed second single, the Remedy video a month late and now similar problems with the Avalon video unfold."
'People not working'
The London born rapper also criticised the music company for the amount they pocket from his live shows.
"A live gig = 10% to agent, costs and expenses, 20% management commission then 25% to a label who hardly even come to gigs let alone help.
"A lot of artists feel the same but we all just bend over."
The 27-year-old did single out some staff at the Virgin Record label for praise.
"Just to reiterate something for the stupid, my problem isn't that they take that money, it's that there are people not working for it."
It's not the first time Professor Green has used the social network to vent his anger.
Last month he apologised to fans who were angry after he claimed that bulimia was an "intelligent disorder".