Young people 'not visiting pubs' say beer campaign group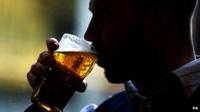 The number of young people drinking in pubs has fallen sharply over the past few years, according to new research.
A study of the drinking habits of 18 to 24-year-olds by real ale campaign group Camra shows the number visiting pubs at least once a week has fallen from 38% to 16% in the past seven years.
During that time more than 8,000 pubs closed across the UK with campaigners blaming higher taxes on beer.
Camra spoke to 1,000 adults including 150 18 to 24-year-olds in its survey.
The group said that despite the falling numbers of young people going to pubs, more were trying real ale, especially young women.
'Hollow message'
Mike Benner, Camra's chief executive, said: "Hard working publicans have been hammered by the government in recent times.
"What we've seen in the past seven years is that young adults in particular have been priced out of an affordable night down their local pub.
"The government has encouraged people to use their pubs as community assets.
"Yet this is a hollow message when punitive increases on the price of a pint have meant that consumers are deterred from visiting their local, causing beer sales figures in this country to fall flat."
Camra said one in two regular pub-goers now preferred to drink at home because it was cheaper.
They say that's because beer tax has risen 42% since 2008.
The real ale group has launched an e-petition to try to start a debate in Parliament about tax on beer.
Community Pubs Minister Bob Neill said: "The coalition government is taking decisive action to tackle the sale of excessively cheap alcohol, by introducing a minimum unit price for alcohol.
"This will protect responsible, well-run pubs from unfair loss-leading by supermarkets, and leaving the price of a pint in a pub unaffected.
"We are actively supporting local community pubs - having increased business rate relief, making it easier to hold live music, and scrapped the last government's cider tax."