'The next Jessica Ennis' on her Olympic heptathlon debut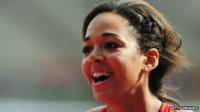 Jessica Ennis may have taken the gold medal and the headlines but it was a big weekend too for 19-year-old Katarina Johnson-Thompson.
The teenager from Liverpool finished the heptathlon in 15th place and has been marked out as a star of the future.
She spoke to Newsbeat's sports reporter Simon Mundie.
What did you make of London 2012?
"It's everything I've dreamed of and more.
"We've had phenomenal support from the crowd and the stadium is absolutely buzzing.
"I've never experienced anything like that and I'll never experience it again."
You must have been inspired by Jess Ennis?
"Four years ago, she was injured and watching Beijing from home.
"How she's got to where she is today is inspirational.
"When she crossed the finish line I was crying, (fellow heptathlete) Louise Hazell was crying.
"Everyone was on their feet applauding Jess and that's going to stay with me forever."
Having been part of this, do think you'll be better equipped to challenge in four years?
"I think I adapted to it very well.
"I was overwhelmed at the start but I tried to take it in my stride.
"My PB (personal best) in the high jump was one of the best moments.
"It's been one of the best weekends ever."
Does the crowd support really make a difference?
"I was joking with Jess that the crowd's cheers pushed me towards a PB.
"I didn't even know if they were cheering for me, or the long jump guys but I just went with it!
"That gave me a push, so it definitely spurs you on to a better performance."