Nick Grimshaw's Radio 1 breakfast show gets start date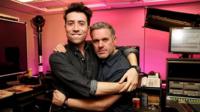 Chris Moyles will present his final breakfast show on Friday 14 September, Radio 1 has confirmed.
The 38-year-old DJ will also host a "goodbye party show" the day before away from his studio.
His successor Nick Grimshaw will launch his new breakfast show on Monday 24 September.
In July it was announced that the 27-year-old would be taking over from Chris Moyles, who has presented the show since 2004.
New schedule
Grimshaw said it was a "dream" to succeed Moyles, the longest-serving breakfast show host in Radio 1 history.
The move will see Grimshaw move to the slot from his current specialist programme, which is broadcast on weekday evenings.
Chris Moyles made the announcement that he would be moving from the slot on 11 July.
During the programme in July, he said: "We're off. I wanted to let you know. A couple more months of us, then it's someone else's turn. Thank you for listening."
Chris Moyles is contracted at Radio 1 until New Year 2014 after signing a new two-and-a-half year deal in July 2011.
There's been pressure on the new Radio 1 controller Ben Cooper to make the station's audience younger.
In June, the BBC's governing body - the Trust - found that Radio 1 still needed to attract more people under 30 years old.
That followed a review in 2009 which said Radio 1 should focus on serving 15 to 29-year-olds.
Ben Cooper described Chris Moyles as "the most successful breakfast show host in Radio 1 history".
'Dream of mine'
Chris Moyles' successor Nick Grimshaw presents a night-time show on Radio 1 between 10pm and midnight on Sundays to Thursdays.
The 27-year-old has been presenting the show on the station since June 2009.
Before that he was the host of weekend breakfast and has also presented TV shows on BBC Two for Radio 1's former teen programming strand Switch.
He also presents T4 on Channel 4 on Saturday and Sundays.
Originally from Oldham, he began his career on student radio at Liverpool University.
Talking to Newsbeat about taking over as Radio 1's breakfast show host last month, Nick Grimshaw said: "I'm super-excited to be hosting the iconic Radio 1 Breakfast Show, it's been a dream of mine since the age of 11.
"I love Chris and have always looked up to him as one of the best broadcasters ever."