Lily Allen changes stage name to Lily Rose Cooper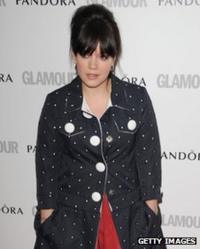 Lily Allen is changing her stage name to Lily Rose Cooper.
The 27-year-old says she wants to reflect her marriage to Sam Cooper and is working on new material.
A statement from her publicist said: "The singer will now be known as Lily Rose Cooper, the name she already uses on her Twitter account."
She and property developer Sam Cooper married last year and are expecting another child. The couple already have an eight-month-old daughter, Ethel.
The singer had previously said she was retiring from music and had no plans to make another album after the release of her second, It's Not Me, It's You, in 2009.
After making her final performance supporting Muse at Wembley Stadium in September 2010, she announced that she was expecting but miscarried six months into her pregnancy.
Lily Allen went on to launch a fashion line and clothing rental shop with her sister Sarah and then, last year, a record label.
But in June she revealed on Twitter that she had returned to the recording studio to work on new tracks.
In this latest statement Lily said: "It's great to work at my own pace, with no commitments other than to make music. I'm excited to be heading back into the studio."
No release date has been set but anything she releases in future will appear under her married name of Lily Rose Cooper.