One Direction hit 12 million sales in less than a year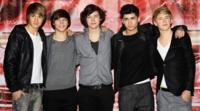 One Direction have notched up 12 million sales in less than a year, say their record company.
Syco and Sony Music have given the band a special disc to mark eight million singles, three million albums and one million DVDs.
The five-piece were put together at the boot camp stage during The X Factor in 2010.
Their debut album Up All Night made history when it went straight to the top of the US album chart in March.
It's sold more than a million copies in America and What Makes You Beautiful, their first single, has sold three million Stateside and five million worldwide.
Liam Payne said the band were "humbled" by their success.
"We have an incredible team of people around us who have helped us achieve this," said the 18-year-old.
"Above all we would like to thank our fans. We owe all our success to them."
Despite the success, the band's management has been involved in a legal dispute with an American boy band with the same name.
One Direction UK have insisted they won't change their name, while the US group say they won't be bullied.
It was also announced this week that the band is up for two prizes at the MTV Video Music Awards in September. They will also perform at the ceremony.
They are also going on a worldwide tour in 2013 including 39 arena dates across the UK and Ireland.