Newsbeat's guide to... Russia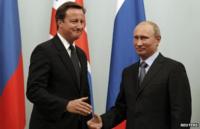 Russian President Vladimir Putin is in the UK for talks with Prime Minister David Cameron - and to watch his country perform in the Olympics.
The two leaders will talk about Russia's decision to veto a UN Security Council resolution with China to end the violence in Syria.
Also likely to be brought up are human rights in the country and the court case of a punk band called Pussy Riot, who face prison for performing a concert in which they called for the removal of Putin from power.
The pair will also watch the judo at ExCel in east London's Docklands area.
Russian history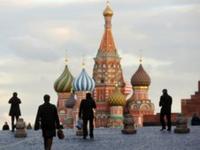 Russia has a population of 142 million - more than twice the population of the UK.
It reverted back to its original name after the collapse of the Soviet Union (USSR) in 1991. 14 other states were formed.
The former communist republic helped the allies win World War II but occupied most of eastern Europe for years afterwards.
That led to what was called the Cold War and long-running nuclear tensions between the USSR and America.
Since 1991 Russia has expanded economically but there has been criticism from the international community over its human rights record and freedom of the press.
Foreign tensions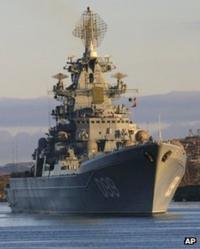 Russia is a major supplier of natural gas to Europe and beyond.
It showed off its power in 2006 by cutting former Soviet state Ukraine's gas line.
There have also been ethnic tensions since the break up of the old Soviet Union.
Thousands have died since Russia originally sent troops into Chechnya in 1994, which it says is to stop the area falling into anarchy or Islamic militancy.
Troops were also sent into another former Soviet state Georgia in 2008.
America and other western states are also at odds with Russia for their support of Iran's nuclear energy programme and its backing of Bashar al-Assad's Syrian regime.
Russian journalists have been attacked in the past if they've looked too deeply into state corruption, organised crime or human rights abuses.
David Cameron's talks with Vladimir Putin this week are aimed at improving trade between the two countries.
UK relations broke down with Russia after it was accused of being involved in the death of former Russian spy Alexander Litvinenko in London in 2006.
Vladimir Putin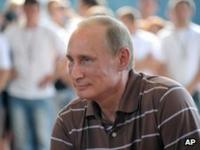 Vladimir Putin was elected president of Russia in 2000 taking over from Boris Yeltsin.
He served two terms as president before becoming prime minister for a four-year spell.
He then took over the presidency again in May 2012 although opposition groups have accused him of rigging the vote.
Putin started his career as an agent in the Soviet Union's former secret service, the KGB, after leaving university.
He was initially posted to east Germany before being recalled to Moscow after the collapse of the Soviet Union.
The 59-year-old and his wife Lyudmila have two daughters and has often been photographed with his shirt off while on holiday.
Putin is a karate and judo black belt and was champion of Leningrad (now Saint Petersburg) in his younger days.