Jay-Z to be executive producer on NBA 2K13 video game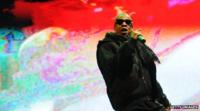 Jay-Z has been announced as executive producer on the NBA 2K13 video game.
The rapper has picked 24 songs for the soundtrack, which includes four of his own tracks as well as acts like Coldplay, Daft Punk, Kanye West and U2.
In a statement, Jay-Z said it was a "unique opportunity" to get involved with the annual basketball franchise.
2K Sports, the US company which makes the game, said Jay-Z had helped to design the in-game menus and other visual elements.
Some of the songs to feature in the game include Jay-Z's Public Service Announcement, Kanye West's Amazing, U2's Elevation, Santigold's Shove It and Coldplay's Viva La Vida.
Last year's instalment of the game sold more than five million copies and 2k Sports said Jay-Z's involvement wasn't just a token endorsement.
The new title, which features current NBA stars as well as some of the sport's all-time greats, will be released on 2 October.
"He's been unbelievably involved," said the company's Jason Argent.
"We've had hour-long sessions and his input has been super-valuable."
Jay-Z is a minority owner of New York basketball team Brooklyn Nets and recently helped redesign the team's logo.
The star topped last year's Forbes rap rich list having made an estimated $37 million (£22m) and is thought to be worth more than $460m (£288m).
He founded urban clothing brand Rocawear with label boss Damon Dash and also owns a small chain of sports bars.