The Black Keys and Paramore 'could headline Reading'
1 August 2012

From the section

Music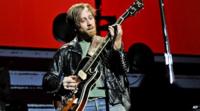 The boss of the Reading and Leeds festivals has said that bands like The Black Keys and Paramore could soon headline the event.
Melvin Benn told Newsbeat that the second spot on the line-up was "absolutely a position that we look at" for future years.
"Paramore, Florence, The Black Keys - you are seeing future headliners. No question in my view," he said.
Reading and Leeds festivals take place from 24-26 August.
The second slot on the bill gives a great opportunity for the bands to show their potential, said the festival organiser.
But he admitted it was also a tough challenge.
"The act that plays before the headliner will get a similar expectation from the audience," he said.
"[They] will be presented with a similar challenge of, 'Are we good enough to make this audience ours?'"
Melvin Benn also revealed that Paramore turned down headline offers at other UK festivals to play at Reading and Leeds.
"They didn't want to do it," he said. "They wanted to play that position with The Cure at Reading and Leeds.
"They will know when the time's right, and the time will be right soon, I'm sure."
The US band play before The Cure during the Bank Holiday festival.
Meanwhile, Florence and the Machine take to the stage before Kasabian, while The Black Keys warm up for Foo Fighters.
Headliners on the NME/Radio 1 stage are The Maccabees, At The Drive In and Justice.
The three-day event takes place at a site in central Reading and at Bramham Park in Leeds.