Biffy Clyro reveal new double album and single names
1 August 2012

From the section

Music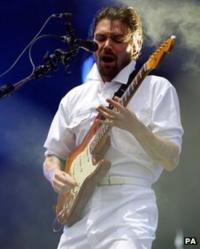 Biffy Clyro say that their sixth studio album will be called Opposites.
Front man Simon Neil introduced the first single from the double record on Zane Lowe's Radio 1 show, a track called Stingin' Belle.
"Each album is the exact opposite vibe to the other lyrically," said Neil talking about the album concept.
"One's about putting things in the worst possible way and thinking you're getting yourself into a hole. The other looks at things more positively."
The band had previously announced that the double album would consist of two parts titled The Land At The End Of Our Toes and another titled The Sand At The Core Of Our Bones.
A release date is still to be confirmed.
The band debuted three more tracks from Opposites at this year's Download Festival - Modern Magic Formula, The Joke's On Us and Victory Over The Sun.
No limits
Speaking from their studio in Los Angeles, Simon Neil said they had picked new track Stingin' Belle because it represented the album.
"It was one of the first songs that really clicked when we were recording it," he said.
"We've been playing that one in the practice room for about a year or so.
"It shows how over the top the album is. Hopefully it shows that we're not putting limits on this record.
"Potentially it might be our last really over the top record. Stingin' Belle is a good representation of where the double album's going."
Biffy Clyro have also played the Isle of Wight Festival this summer and will perform at London's iTunes Festival on 22 September.
Simon Neil says the new double record feels like the end of an era.
"We've been able to spend time [on the record]," he said.
"Anything we wanted to try we've been able to try. Hopefully we've mastered it on this record. I hope when people hear it they really love it.
"I think we've gone as far as we can. We're still keeping things musical.
"We're still being as weird as we've always been but also making it an enjoyable listen.
"We wanted to make the first double album that you could enjoyably listen to from start to finish."