Dr Who film a 'weird fantasy' says writer Steven Moffat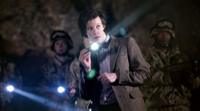 Doctor Who boss Steven Moffat has denied reports that a film based on the popular TV series is being planned.
His comments follow claims by Harry Potter director David Yates, who told reporters last November that a feature-length film was in development.
"There isn't a film. That was all some weird fantasy going on somewhere," Moffat told US magazine Entertainment Weekly.
"I can assure you definitively that was all nonsense."
Steven Moffat, who is also behind BBC detective drama Sherlock, said he would expect to be involved in any plans to create a Doctor Who movie.
"The BBC own Doctor Who and, for the moment, I run it for them."
This autumn the next instalment of Doctor Who will be shown on BBC One with Matt Smith returning as the doctor.
Earlier this year, Jenna-Louise Coleman was picked to replace Karen Gillan as the time traveller's assistant.
Steven Moffat, lead writer and executive producer on the show, went on to say that even though there were no immediate plans for a film it could happen in the future.
"It will be absolutely run by the Doctor Who production office in Cardiff," he said. "It will feature the same doctor as on television."
Speaking at Comic-Con a few weeks ago, Moffat also gave a taste of what's to come for the next Doctor Who series.
He told fans the doctor would take on prehistoric creatures in a story called Dinosaurs on a Spaceship and that there would be a Western-themed episode called A Town Called Mercy.
The new series returns to BBC One this autumn.
It will be followed by a Christmas special and another eight episodes next year.