Should milk cost more in shops to help dairy farmers?
Former student Emilio Mudrak admits he doesn't think about where milk comes from and only cares that it is cheap.
"You live on a budget at uni," he says. "You save money to go out and do things you want to do."
Weeks of talks and protests have stopped further price cuts that would have hit dairy farmers but many say they are still in crisis.
Newsbeat took 22-year-old Emilio for his first visit to a dairy farm to meet 20-year-old Liz Hutchinson.
Liz, who looks after 120 cows in Wiltshire, laughs when she sees Emilio's clothes.
"Fancy turning up to a farm in a white T-shirt," she says.
"I know," he replies. "I'm going to be wearing the muck by the end aren't I?"
Extra cuts to the price farmers get for milk have been cancelled or delayed after weeks of government talks and angry protests.
Supermarkets and processors say they've shelved their plans because they sympathise with hard-pressed suppliers.
Many farmers still blame them for failing to pass back enough of their profits for selling milk though.
They claim 920 UK dairy farms have shut in the last year.
'365 days'
"If you're a restaurant or a print shop, if you go bust, you go bust," says Emilio.
"Why should farming be any different?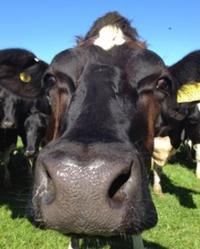 "Why should they have more protection than other businesses?"
"I milk these cows 365 days a year," replies Liz.
"Christmas Day, New Year's Day, after a late party. We've got to look after them full-time. It's a 24-hour job.
"Also, if we lose British milk, it would have to be imported. That's going to come at a greater cost."
Emilio watches as Liz wipes clean every teat on two rows of cows and attaches suction hoses to all their udders.
"To know every cow, every number, which ones have and haven't got infections, it's just phenomenal how much work she puts in," says Emilio.
Supermarkets say lower payments reflect a wider drop in the value of milk products.
Farmers also say they're being squeezed from both ends because things they need, like feed, fertiliser and fuel for machinery, are more expensive.
They claim there has been a 40% drop in dairy farm numbers over the last decade.
Pay more?
At 20 years of age, Liz fears for her own livelihood.
"I'd quite like a future in dairy farming," she says. "But my time and effort is only going to be wasted if we're not going to get the returns on the milk that we produce."
Now he's seen Liz at work, what does budget shopper Emilio think? Would he pay more for milk?
"Absolutely," he says. "My eyes have been opened to how much effort, passion and work goes in.
"I really think people should think twice about how little they're paying."