Example album due out in November, says British rapper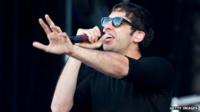 Example says his fourth studio album, which will be called The Evolution of Man, should be out by November.
The British rapper and singer released his last record, Playing in the Shadows, in August 2011.
"I went off the back of the last tour into writing this," he said. "Last year the album was out in August and we had four singles off the album.
"The week my last album came out I already had the song titles and album title for this next album."
Example, 30, wrote most of his latest album while in Australia in January and finished the process off in Los Angeles and New York.
His new single Say Nothing debuted on Radio 1 earlier this week.
Since then the artist says he has been trying to complete the recording while he had time between gigs.
"Between the arena tour and the European tour and festivals I've been finalising mixing down the album," he said.
"I've got a little bit more to do now and it should be done in the next few weeks and released in November.
"This album's been made everywhere. It's been made on planes and trains.
"I was in Australia last October doing Park Life tour and I was on a plane with Benga.
"We pretty much made a song from scratch on a four-hour flight which I ended up vocaling in Melbourne and then I got the guitars replayed in London and then I redid the rap in LA."
Example will also announce a 16-date UK arena tour just before his appearance at V Festival next month.
"There are some very exciting support acts," he said. "So watch out for that one."