Pitbull plays a gig in Alaska after a Facebook vote
31 July 2012

From the section

Music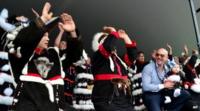 Pitbull has fulfilled his promise to perform a gig in a remote part of Alaska after a Facebook vote to have him play a supermarket show was hijacked.
The rapper vowed to go through with the gig in Kodiak, which has a population of 6,000, after it came out top.
He was greeted by locals, presented with a 'bear survival kit' and given a key to the town by the mayor.
He tweeted: "Thank U (sic) Kodiak, I am honoured truly."
'Hijacked' campaign
Pitbull's next gig is in Atlanta, Georgia, on Tuesday (31 July).
The rapper's visit was organised after he vowed to play in whichever Walmart store received the most votes on Facebook.
A Twitter campaign encouraged people to vote for Kodiak, Alaska - one of the national chain's most remote stores.
The store is located in the town of Kodiak on the Alaskan island of the same name.
In a video message posted online by the rapper earlier this month, he said: "I will go anywhere in the world for my fans.
"I want to invite that someone who thinks that it's a joke to Kodiak, Alaska, with me."
David Thorpe, who organised the campaign to have Pitbull sent to Alaska, made the trip Kodiak too. He posted a picture of himself with the rapper on Twitter.
Born in Florida to Cuban parents, Pitbull's real name is Armando Christian Perez.
He has had hits with On The Floor and Give Me Everything.