Police arrest teenager over Tom Daley Twitter message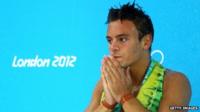 A 17-year-old has been arrested after malicious Twitter messages were sent to Olympic diver Tom Daley.
Dorset Police confirmed they were looking into a tweet which accused him of letting his late father down.
Daley and his partner Pete Waterfield missed out on a medal for Great Britain when they finished fourth in the men's synchronised 10m platform diving.
Shortly afterwards, Daley retweeted a post which said: "You let your dad down i hope you know that."
Daley responded by tweeting: "After giving it my all...you get idiot's sending me this..."
A Dorset police statement said: "A 17-year-old man was arrested by Dorset Police officers in the early hours this morning at a guesthouse in the Weymouth area on suspicion of malicious communications.
"He is currently helping police with their inquiries."
Tom Daley's father Rob died last year from brain cancer.
Speaking before the London Olympics, Daley revealed his father gave him "all the inspiration" that he needed.
The 18-year-old said: "Winning a medal would make all the struggles that I've had worthwhile.
"It's been my dream since a very young age to compete at an Olympics.
"I'm doing it for myself and my dad. It was both our dreams from a very young age.
"I always wanted to do it and dad was so supportive of everything.
"It would make it extra special to do it for him."