19-year-old's 'honour' at lighting the Olympic cauldron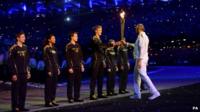 Who would light the cauldron at the Olympic opening ceremony? That was the big question in the run-up to last Friday night.
Sir Steve Redgrave and David Beckham were two of the favourites and while they both played a significant part, the honour went to seven 'stars of the future'.
Nineteen-year-old Adelle Tracey was one those who ran around the track before helping to light the cauldron in front of a packed stadium and more than a billion people around the world.
"I found out about a week ago," she said. "We were told by Danny Boyle, which was amazing."
'Inspire a generation'
Last week, Adelle's mum got a call from the organisers to ask if her daughter could come to London, as they wanted her to be a part of the ceremony.
"We were all so shocked because we had no idea what we were doing there, so it was absolutely amazing," she added.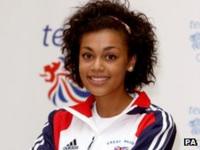 The concept was seven previous British Olympic medal winners chose a possible future Olympian to light the cauldron.
Adelle, who is an 800-metre runner was nominated by Dame Kelly Holmes, who won gold for the same event in 2004.
"[I was] so honoured, even to be put forward by Dame Kelly Holmes was such an amazing accolade," she said.
In the run-up to Friday (27 July), Adelle had to keep it a secret from all her friends.
"I literally said nothing," she explained.
"They knew I was in London and I said I was doing something for the Olympic ceremony but kept it casual so that they would watch because I knew some of them might not.
"So I think they were very shocked when they saw."
Adelle says they rehearsed a lot and she wasn't too nervous.
"Nothing compares to when we actually walked out," she said. "There were so many lights and the crowd was amazing, my legs were shaking.
"I think it was more excitement than nerves because at the beginning I felt like I might before a race but once you get out there you can't stop smiling."
Adelle said there was only one thing that could top an experience like taking part in the Olympic opening ceremony.
"[It would be] getting a gold medal at the Olympics and standing on that podium," she admitted.
"If anything it has inspired me to keep on training hard because it does pay off.
"This is such a nice reward, it's been amazing."