Metallica to start work on new album in September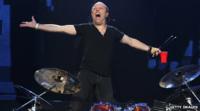 Metallica are set to re-enter the studio in September to begin work on a new album.
Drummer Lars Ulrich said that after finishing their 3D movie and playing a US festival "we're gonna basically just concentrate on new music and try to get another Metallica record [done]".
He said the band were "itching" to begin and had some "brilliant riffs" to work with.
Their last album, Death Magnetic, came out in 2008.
In a conference call with reporters, Ulrich said front man James Hetfield was coming up with some great ideas.
"Every time [he] picks up a guitar there's some brilliant riff that comes out of him.
"I try to make sure that they're all recorded and try to do my best to keep up with them and try to put some drums behind them."
Speaking about the 3D film, Ulrich said the band would film live footage during concerts in Vancouver on 24 and 25 August.
Extra scenes will then be shot in the week after the gigs but won't feature any members of the band.
"It's a split narrative that kind of runs parallel to the concert," said Lars Ulrich.
The film's expected to come out in 2013.