Green Day's Billie Joe Armstrong joins The Voice USA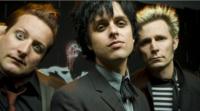 Green Day's front man Billie Joe Armstrong has joined The Voice USA as a mentor for Christina Aguilera's team, according to a tweet from the show.
"Welcome Billie Joe (@BJAofficial) to #TeamXtina! We are ready to rock out in Season 3," said the post.
The singer said he liked the show's approach: "It's not moulding artists, it's just giving them a little bit of guidance and direction without giving them a complete makeover."
The US show returns on 10 September.
In his statement, Billie Joe Armstrong added that working with Christina Aguilera was proving to be a "lot of fun".
Cee-Lo Green and Adam Levine from Maroon 5 also appear as coaches on the NBC show.
Recording for the upcoming series has been going on since June and Armstrong starting filming on 25 July.
The UK version of The Voice is also coming back for another series, with a spokesperson this week denying it was in trouble.
It had been reported that singer Jessie J and Sir Tom Jones were not signed up for the second series and that only five people had turned up to an early audition.
Green Day, meanwhile, are gearing up for the release of their new triple album, ¡Uno!, ¡Dos! and ¡Tré!
The first part is out in the UK on 24 September with the next two available on 12 November and 14 January 2013.