Olympic ambassadors prepare for Weymouth sailing events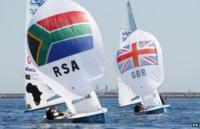 The packed beach is nothing unusual in Weymouth, especially when you consider the hot weather.
But once the Olympic Games get underway, an extra 60,000 people are expected in the seaside town as it is hosting all the sailing events.
To welcome everyone and help them out will be 550 Olympic ambassadors.
Eighteen-year-old Francesca Guarraci is one of them.
"If anyone needs to know where to go or where things are, we can put them in the right direction," she explains.
There will be 12,000 in total across the country, the majority based around venues in London.
'Really excited'
All the ambassadors had to apply for the unpaid role and the criteria including having a passion for the area and the Olympics.
Francesca says she has both.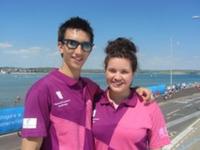 The teenager grew up in Weymouth and is really excited her home town is hosting such a major event.
"It is really exciting," she says. "Nothing really like this happens down here."
The idea of the Olympic ambassadors is to smile and welcome everyone at all the different venues.
Like Francesca, most of the volunteers are from the local area.
Alex Harris is also 18 and says: "It is great. I've grown up knowing the Olympics was coming and I've sailed at the academy, so it has been great to see the atmosphere building up over the years.
"This is a once in a lifetime experience and it's great to put on my CV."
Alex is a keen sailor and is predicting good things for Team GB.
He says: "Last year we dominated all the events, so maybe we can do it again at home."
Language barriers
If you travel to Weymouth for the sailing, it won't be hard to spot Francesca, Alex and the other Olympic ambassadors.
Their uniform is a pink and purple T-shirt for both the girls and boys.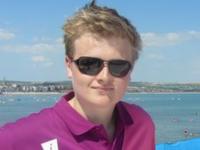 Alex says he doesn't mind what they look like.
"We will really stand out which is a good thing," he says.
There will be people coming from all over the world to the UK to watch the Olympic and Paralympic Games.
So as well as the local ambassadors, volunteers have been brought in from different countries to help with language barriers.
Eighteen-year-old Enrico Maiolo gave up his summer in Italy to come to Weymouth to be part of the Games.
"I have to translate from Italian to English," he says.
"Maybe the team leader will call me if there are any problems with Italians."
He says he is looking forward to meeting new people, getting better at English and having fun.
Enrico doesn't have high hopes for his national team getting many medals though.
"I am not sure because the England team are really good especially in sailing and we are such a small country."