Hobbit films could become a trilogy according to reports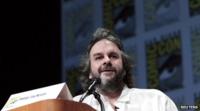 The Hobbit films could be extended to a trilogy, according to film industry reports.
Discussions are taking place between director Peter Jackson and Warner Brothers, say The Hollywood Reporter and Entertainment Weekly.
Additional filming is thought to be needed if the Lord of the Rings prequel is stretched to a three-parter.
The first instalment is due out on 14 December and the follow-up on 13 December 2013.
Two weeks ago, Peter Jackson told the Comic-Con fan convention that he wanted to shoot extra footage beyond the two films he had originally planned.
But he added that talks on whether that would become a third movie were "very premature".
Discussions now seem to have progressed, with sources close to the production reportedly saying that actor arrangements and issues over rights are now being looked at.
Filming for the two Hobbit movies, which began in March 2011, ended at the start of this month.
The three Lord of the Rings films, which came out between 2001 to 2003, made a combined total of nearly $3bn (£2bn) at the box office and The Hobbit movies are thought likely to repeat that level of success.