Woman in Black prequel could follow the sequel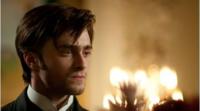 The president and CEO of Hammer films has revealed a Woman in Black prequel could follow the sequel to establish a new movie franchise.
"There may well be a prequel but not the next movie but watch this space," says Simon Oakes.
Up next is Angels of Death, currently being developed by Susan Hill who wrote the original 1983 Woman in Black book.
"We've been working with Susan Hill to write not exactly the sequel but more the story 40 years on," says Oakes.
"That's what we're working on now with a writer called Jon Croker."
"We're developing a screenplay about the Woman in Black 40 years on in the same locale, but with obviously the world greatly changed."
Set in the early 1900s, the first Woman in Black movie took more than £82 million at the box office worldwide, so it's no surprise that Hammer would be keen to set it up as a new horror franchise.
"Yes we'd like to," admits Simon Oakes. "In a perfect world everyone would love a franchise."
"I think you just have to be damn sure you've got great stories and you won't be doing it just for the sake of it."
12A Complaints
The British Board of Film Classification (BBFC) recently revealed that The Woman in Black is 2012's most complained about film so far, receiving around 120 objections to its 12A rating.
"You don't want to be irresponsible, but scaring people, giving them jumps and excitement in my view is fine," feels Oakes.
"There's much, much worse going on in video games and on the internet, than what is in The Woman in Black."
The studio boss is aware that success is never guaranteed for any future film ("unless it's a Richard Curtis rom-com" he concedes) and Oakes is acutely aware of the pitfalls in establishing a franchise.
"Our aim is to make the second (Woman in Black) film, Angels of Death, better and more successful than the first.
"It can be a double-edged sword. If you're successful of course it's fantastic, if you make a film that doesn't live up to the first, then you're toast.
"So I think it has all sorts of risks associated with it, but yes it's great and that success gives you more credibility, it gives you maybe more access to casting, writers, directors, and so forth."
Spoiler alert
One thing that has been perplexing Oakes is the internet rumour that Daniel Radcliffe could return in some form for the next Woman in Black movie.
"I don't know why, it must be from people who haven't seen the film because he dies in the end, so no.
"And I would never want to impose upon Daniel the notion of having to do a sequel, and a sequel, and a sequel.
"I think he's been through that already."