Snow Patrol get late licence for Olympic Hyde Park gig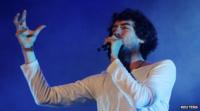 Snow Patrol will be allowed to play until 1am at a Hyde Park gig coinciding with the Olympic opening ceremony.
Westminster Council called the curfew "exceptional" and said it was dictated by the Olympic TV broadcast, which is being shown on screens in the park.
Snow Patrol will play alongside Stereophonics and Paolo Nutini at the BT London Live gig on 27 July.
Earlier this month, Bruce Springsteen had the plug pulled on him after his show at Hyde Park overran.
Councillor Audrey Lewis, licensing chairman of Westminster Council, said: "The opening night of the Olympics is clearly an exceptional evening and the Hyde Park show on Friday is timed to run around the opening ceremony of the Olympics.
"It is not a case of a straight forward concert night at Hyde Park.
"We took that into consideration when granting the application. It is clearly different from commercial shows that run throughout other parts of the year."
Bruce Springsteen's show at the Hard Rock Calling event on 14 July was controversially cut short by concert organisers after he went past the council's 10.30pm curfew.
Snow Patrol will take to the stage at 11.10pm at this week's central London event, which features acts representing all the countries of the UK.
However, it's thought the band is likely to finish about half an hour short of the 1am curfew.
Duran Duran fly the flag for England at the gig, a decision that has been criticised by some music fans.
Paolo Nutini, Stereophonics and Snow Patrol represent Scotland, Wales and Northern Ireland.
Westminster Council also confirmed that Blur's gig coinciding with the Olympic closing ceremony on 12 August will also have a 1am curfew.