Newsbeat's guide to... the hacking inquiry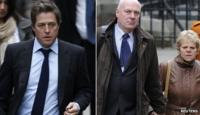 The Leveson inquiry into how the media behaves is holding its last scheduled hearings.
It was ordered by the prime minister last year after the phone-hacking scandal. Lord Justice Leveson was put in charge of it.
The inquiry began at the Royal Courts of Justice in London in November 2011 and has run for eight months, costing £5.6 million.
More than 470 people have given evidence.
Who appeared at the inquiry?
The first people to give evidence were the parents of the murdered schoolgirl Milly Dowler.
Sally and Bob Dowler spoke of how they'd been given false hope their daughter was still alive after voicemail messages on her mobile phone were deleted.
It's claimed someone working for The News of the World had listened to the messages and deleted them. The accusations led to the closure of the Sunday paper in July 2011.
Other people to give evidence included the actress Sienna Miller. She spoke about how she felt photographers had intruded on her private life.
The actor Hugh Grant accused The Mail on Sunday of hacking into his voicemail messages, something the paper denies. He also blamed the UK press for breaking into his flat.
Police chiefs and senior politicians were challenged over suggestions they had got too close to journalists and media bosses.
The culture secretary defended his handling of News Corporation's bid to take full control of BSkyB. Jeremy Hunt insisted he had not done a deal with boss Rupert Murdoch, who also appeared at the inquiry.
What happens next?
Lord Justice Leveson could now ask for more evidence before writing his report.
It's due to be published this autumn and is likely to be critical of many of those who spoke at the inquiry.
It's also expected to suggest a new way to monitor and regulate the press in future.