Plan B says he made a mistake over 'fascist' T-shirt
23 July 2012

From the section

Music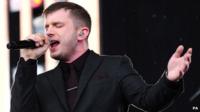 Plan B has admitted he made a "mistake" after he was pictured wearing a customised T-shirt featuring the name of band believed to have had fascist connections.
The T-shirt showed graffiti of 1970's Lancashire rock band Skrewdriver on the front cover of Shortlist.
"The minute I found out what the words meant I was angry with myself for not questioning them," he said.
Plan B said the garment was "not official" merchandise.
'Significance'
The 28-year-old from east London, whose real name is Ben Drew, explained his "mistake" in a statement to alternative music website The Quietus saying, "I was not aware of the significance of it."
Drew said: "I was ignorant to the existence of the band Skrewdriver. I don't listen to music like that I wouldn't know the names of the bands that make that music."
He explained that the T-shirt he was wearing was made using images copied from photographer Gavin Watson's book Skins & Punks, which chronicled street culture between 1978-1985.
"I made a number of these T-shirts," he said.
"Just like my generation of young people are demonised in the media to all be hoodie wearing thugs and chavs, so were the skinheads in the 80s.
"Some of the people he [Watson] shot may have been racists but his family and close friends weren't."
Skrewdriver were formed by singer Ian Scott Donaldson in 1976. Late in their career he openly supported far right nationalist groups.