Sofia Vergara beats Kim Kardashian in TV earnings list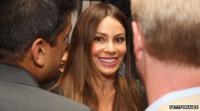 Sofia Vergara was the highest paid US television actress over the past 12 months.
The Modern Family star is thought to have earned around $19m (£12.1m) in the last year.
The Colombian-born actress took the number one spot thanks to her Emmy award-winning show, which is shown on Sky1.
Lucrative endorsement deals for Diet Pepsi and Cover Girl also helped her top the Forbes magazine list.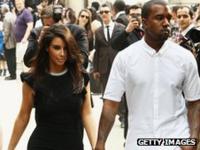 The 40-year-old actress also has a partnership role in Latin World Entertainment, an entertainment company that Forbes said "was poised to become a new media powerhouse".
Reality TV star Kim Kardashian landed the number two spot with $18 million (£11.4m) which was helped by her guest appearance on Drop Dead Diva and her wedding to Kris Humphries.
Kim Kardashian's younger sister Khloe was ranked at number five in the list for earnings of $11m (£7m) from May 2011 to May 2012.
The Keeping Up With The Kardashians star jointly held the place with 30 Rock creator Tina Fey.
Desperate Housewives stars Eva Longoria came in third place with $13 million (£8.2m) and Bethenny Frankel was in fourth position with $12m (£7.6m).
Other Desperate Housewives Felicity Huffman, Teri Hatcher and Marcia Cross also came in the top 20.
To compile the list, Forbes took into account pay, endorsement deals and advertising work.
Forbes Highest paid US TV actress list
1. Sofia Vergara, Modern Family - $19m (£12.4m)
2. Kim Kardashian, Keeping up with the Kardashians, Khloe & Lamar - $18m (£11.4m)
3. Eva Longoria, Desperate Housewives - $15m (£9.5m)
4. Bethenny Frankel, Desperate Housewives, Bethenny Ever After - $12m (£7.6m)
5. Khloe Kardashian Odom, Keeping up with the Kardashians - $11m (£7m)
5. Tina Fey, 30 Rock - $11 million (£7m)
7. Mariska Hargitay, Law & Order: Special Victims Unit - $10m (£4.4m)
8. Zooey Deschanel, New Girl - $9 million (£5.7m)
8. Felicity Huffman, Desperate Housewives - $9 million (£5.7m)
8. Ellen Pompeo, Grey's Anatomy - $9 million (£5.7m)
11. Kate Walsh, Private Practice- $8 million (£5.1m)
11. Teri Hatcher, Desperate Housewives - $8 million (£5.1m)
11. Marcia Cross, Desperate Housewives - $8 million (£5.1m)
11. Kaley Cuoco, The Big Bang Theory - $8 million (£5.1m)