Research shows texting now more popular than calling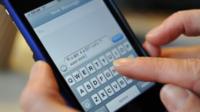 It might seem obvious, but it's now official: more people are using their mobile phones to text rather than call.
The communications watchdog Ofcom says for the first time there has been a fall in the number of mobile calls by 1% and landline calls by 10%.
The research found that the average person sends 50 texts a week.
But Chloe, 15, told Newsbeat she texts more than that: "I probably send over 15 a day. It's just a lot easier and quicker than calling."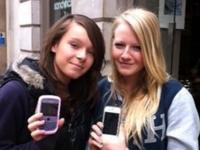 Her friend Aurora, also 15, says she still prefers calling: "If I was going to invite a friend to join us shopping today, I'd call her.
"You get more of an immediate response and if she was busy, it would just go to answer phone."
Ofcom say the change in people's habits is down to more people owning smartphones - and that 16 to 24-year-olds are leading the way when it comes to texting.
Aurora says: "There are some things you just can't do by text though. Dumping someone by text is even harsher than dumping someone over the phone.
"You've just got to man up and do it face to face."
Chloe adds: "And you can't sing via text."
The research by Ofcom found 58% of people sent texts everyday while only 46% made a telephone call.