Madonna has highest grossing tour, says Billboard
18 July 2012

From the section

Music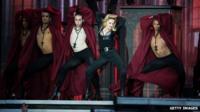 Madonna has had the highest grossing tour since the beginning of June, according to Billboard magazine.
The pop star, 53, has made nearly $50 million (£32m) on her MDNA world tour since it started in Israel on 31 May.
The singer still has concerts to play across Europe and North America before finishing in Argentina just before Christmas.
Lady Gaga is in second place on the list with Cirque du Soleil's Michael Jackson tour in third.
Other artists in the top 10 include Jennifer Lopez, Iron Maiden and Foster The People.
The rest of the rundown is made up of country acts Rascal Flatts and Brad Paisley, Canadian reality show Star Academie and American singer/songwriter James Taylor.
Madonna has performed to more people then her closest competitors this year with 417,448 watching her shows so far.
In comparison, Lady Gaga has been seen by 180,498 and Jennifer Lopez by just over 20,000.
Former Pink Floyd star Roger Waters' tour tops total worldwide concert ticket sales for the first half of 2012, according to Pollstar magazine.
The top 10 highest grossing tours since the beginning of June are:
1. Madonna - $49.5 million (£32m)
2. Lady Gaga - $23.6m (£15m)
3. Cirque du Soleil's Michael Jackson tour - $5.8m (£3.7m)
4. Rascal Flatts - $2.3m (£1.4m)
5. Jennifer Lopez - $1.7m (£1.08m)
6. Iron Maiden - $1.5m (£959,000)
7. Brad Paisley - $1.2m (767,000)
8. Star Academie - $834,000 (£533,000)
9. James Taylor - $688,000 (£439,000)
10. Foster The People $573,000 (£366,000)