Conor Maynard: I'm not just another young pop star
23 July 2012

From the section

Music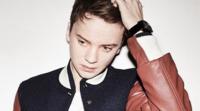 The day we speak to Conor Maynard he's just been to the dentist.
It was an experience made all the more excruciating by the fact he met a girl he fancied there and tweeted about her afterwards.
"Apparently after I left she saw it," he says shaking his head with embarrassment.
"I've actually got to go back next week," he says, feeling his jaw. "Oh dear."
'Mayniac' fans
It's a modern problem for a modern pop star.
The 19-year-old from Brighton has almost 400,000 twitter followers, nearly half a million Facebook fans and 11m hits on his debut video Can't Say No on Vevo.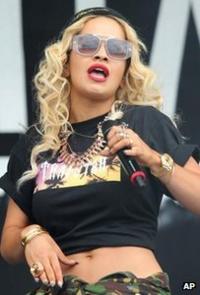 His legions of young admirers are aptly nicknamed The Mayniacs. "They like to scream, they like to chase me," he notes.
It's an impressive achievement for a singer who's only released two singles so far.
Last month he collected the award for best newcomer at the Nordoff Robbin's Silver Clef awards.
That same day he played a gig at the headquarters of a well-known supermarket chain in the north of England. He had used a very rock 'n' roll form of transport to get there on time.
"It was like a little private helicopter. I thought, 'Yeah I'm so cool,'" he laughs.
"You don't understand how sick I felt when I got off it. I did not feel cool. I thought I was going to throw up in front of everyone."
Huge collaborations
The industry is certainly expecting big things from Maynard.
He says the experiences he had during the making of his debut album usually get offered to those artists "who've had success and are on their second, third album".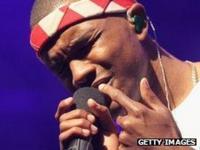 For part of the recording of his debut Contrast he spent time in the US writing with N*E*R*D's Pharrell Williams.
"He'd been following my cover versions for about two years," says Maynard. "When he reached out it was actually to sign me, he didn't realise I was already signed."
Through Williams he was introduced to rappers Tyler the Creator and Lil Wayne. Other big names appear on the release too.
"When I first spoke to Ne-Yo it was actually over Skype," he smiles. "I actually had a bit of barricade between us so that he couldn't see that I was wetting myself."
"Ne-Yo came over here recently and I was in the studio with David Guetta - rather than working it was a bit of a chilled time."
Much talked about singer Frank Ocean has also written a song on the album.
"Frank Ocean is one of the best modern day writers there is - he's an incredible writer and he's really kept R&B alive in a way," he explains.
'Mature album'
He's also hoping to release a collaboration with Rita Ora that's on the album. Drake and John Mayer are next on his wish list.
To work with those big names was an inspiration for the singer who's set his sights on writing for other artists in the future too.
"There's a track on the album called Just In Case which I wrote with these producers.
"I don't know if I'm allowed to say it but another artist did try and take it - a very big American artist. And I was like, 'Ok, it's mine.'
"For me, that felt quite good, when someone you look up to tries to have it."
This all sounds a lot for a young star, who has been compared to Justin Bieber, to take on board.
There's no sign of nerves though: "People will be expecting a young pop album but it's not. It's an older more mature album.
"It's an amazing time right now for British talent over in the US. They've really got their eye on UK singers. I'd like to capitalise on that time. Releasing my music now is a really good time."
Conor Maynard's debut album Contrast is out on 30 July.