Mercury winners The xx ready 'adventurous' second album
17 July 2012

From the section

Music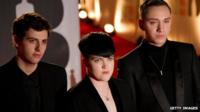 The xx have described the sound of their forthcoming second album Coexist as "adventurous".
The trio, who won the 2010 Mercury Prize for their self-titled debut album, said the process of recording the follow-up had been "pretty relaxed".
Oliver Sim from the band told Radio 1's Zane Lowe "it was easy to do what we wanted".
The first single from the new album, Angels, is now out.
'Adventurous' album
Coexist was recorded in the band's London studio between November 2011 and May 2012 and produced by the group's own Jamie Smith.
The band beat off competition for the Mercury Prize two years ago from the likes of Mumford & Sons, Dizzee Rascal and Paul Weller.
On the recording of their follow-up bass player and vocalist Oliver Sim said: "We were very much alone without anyone. It was easy to do what we wanted.
"We went into this second album and hardly any of it was premeditated. There weren't many discussions and we didn't go into it with very many limitations. We're still the same band.
"We weren't intentionally trying to sound like us. We had a good time and we were adventurous."
'Shut off'
The group said it was important for them to have some time off following the success of their first album.
Singer and guitarist Romy Madley Croft said: "It was so necessary to have some time away from it and I think we all just shut off. Jamie did his thing but he's a workaholic.
"We got back into doing normal things and hanging out with our friends. Just forgetting that that's what we did. It's made coming back really exciting and more special."
Jamie Smith, from the band, said he found the process of making the album "very satisfying".
"I had to relearn how to work with my two best friends rather than with people I didn't really know or just on my own. That took a bit of time."
The band played three low-key shows in London in May.
"Touring towards the end became a bit much," explained Sim. "Our main problem was that we just didn't find it creative. As soon as we came home it was like a release being able to work again."
Their only UK appearance currently confirmed is at Bestival in September.