Russell Brand hasn't seen Katy Perry's Part Of Me 3D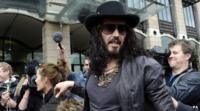 Russell Brand says he hasn't seen Katy Perry's documentary, Part of Me 3D.
The comedian and actor features in the film, which gives a behind the scenes account of the pop star on tour. It also covers the breakdown of Katy's relationship with Russell.
The couple split up last year after 14 months of marriage and their divorce was completed on Saturday 14 July.
When asked if he had seen Part of Me, he said: "No I ain't. I haven't even seen Hunger Games yet."
Russell was talking to Newsbeat about his series, Brand X, which is airing in the US and on Sky Atlantic in the UK.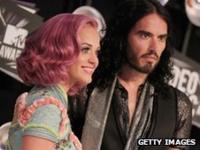 The programme has had some bad reviews from television critics, but he defended the show.
He said: "I'm promoting it because we need more people to watch it in England because people think I'm just doing, 'That thing in America.'
"I want people to watch it in England because they'll love it. It's very English eccentric."
Brand X is filmed in front of a small audience and the comedian says it has been good to return to playing live venues.
"What I've realised is you're better off being in communication with the people, having fun. There's no point going off to do great big movies, it drives you nutty."
He won't be quitting acting just yet though.
"I'll still do the movies though, to get my hands on a bit of money. The opportunity to make movies doesn't last very long."
Brand X is on Sky Atlantic on Monday at 11.05pm.