Mumford & Sons announce their new album is called Babel
16 July 2012

From the section

Music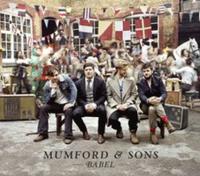 Mumford & Sons have named their second album Babel.
As previously announced, the new record will be released on 24 September and has been produced by Markus Dravs.
"As a band, we've never been closer or more collaborative, all working to our strengths," a statement from the band said.
"We feel that this record is a natural progression that we're proud of and we cannot wait to take it out on the road."
The London band released their debut album, Sigh No More, in October 2009.
They told a Dutch radio station last month that the new record signalled a musical progression rather than a totally different sound.
"We had started writing new songs well before we got into the studio to record," their statement continued.
"At first, we peeled ourselves off the road quite reluctantly.
"We love playing live, obviously, but it had also become an important part of our creative process, we had been writing and rehearsing in sound checks, and sort of road-testing new songs on our very gracious audiences.
"But then we fell in love with recording again. The album started to come together, and with the help of Markus Dravs once more, we started to relish the challenge of making this album."
The band is made up of Marcus Mumford, Ben Lovett, Winston Marshall and Ted Dwane.
They are touring in North America during August before travelling to Australia and New Zealand in October and November.
The track listing for Babel is as follows:
1. Babel
2. Whispers In The Dark
3. I Will Wait
4. Holland Road
5. Ghosts That We Knew
6. Lover Of The Light
7. Lovers' Eyes
8. Reminder
9. Hopeless Wanderer
10. Broken Crown
11. Below My Feet
12. Not With Haste