Amir Khan reveals his 'fight tunes'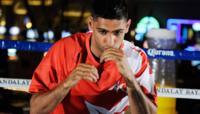 Amir Khan is up against Danny Garcia on Saturday [14 July] in a light-welterweight unification bout in Las Vegas.
The 25-year-old goes into the fight a champion once again, after Lamont Peterson was stripped of the title.
Khan lost his titles in a controversial December fight, but Peterson later had to give up the belts after failing a drugs test.
In a documentary called The Champion's Playlist - which goes out on 15 July at 9pm on 1Xtra - Khan talks about the importance of music to his boxing career.
"I think music is a good thing, especially when you're waiting around and warming up," says Amir.
"The room's so quiet and you're thinking about the fight and what you have to do.
"But when you have the music on it kind of relaxes people, takes their mind off the fight and being nervous."
The Bolton-born boxer appealed after his points defeat against Peterson.
A rematch - scheduled for 19 May - was called off after Peterson tested positive for synthetic testosterone.
'Switch on'
Amir says music is essential to the big walk to the ring - a moment he'll experience again this weekend in Las Vegas.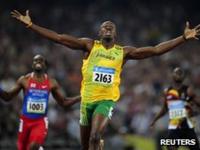 "You know when your fight music starts it's work time, bang, you switch on and you're focussed."
Like other boxers, he admits having a soft spot for Eye of the Tiger from the Rocky films: "It's probably the ultimate one that gets everyone geared up," admits the fighter.
"Whenever you hear that song you're like, 'Oh man, I want to go for a run now'."
Amir also told 1Xtra that he likes to listen to R&B and hip hop when he's in the gym.
"Kanye West, Power, is another one that gets you into training.
"Tenth round and you're tired, the song just gives you a lift, a little bit of a push.
He also describes Chris Brown song Look At Me Now as a "brilliant tune" and says it reminds him of being in the ring with thousands of people looking on.
"I think the song says it all - Look At Me Now - you get me."
Not all top athletes use music to pump them up though. For some it can be a distraction.
The world's most famous sprinter, Usain Bolt, says listening to tunes on the track is something his coach doesn't like.
"It's okay. He has a valid reason," the world record holder told 1Xtra.
"I think it's true that when you're on the track listening to music it doesn't help you to concentrate on what you need to do.
"He [Glen Mills] says he wants our mind to be clear and we shouldn't listen to music because you can't focus on what you're about to do, or what you're doing at the time.
"It's absolutely true," admits the Jamaican sprinter.