MPs tell young people to 'show up' for decision making
Michael from Portsmouth is clear why he chose not to vote in recent local elections.
The 19-year-old says it would have meant picking "who I hated least, rather than who I liked the most".
Alongside two other Newsbeat listeners, he's spending this week asking why many younger people don't trust politicians.
But MPs from Labour, the Liberal Democrats and the Conservatives all urged him to "show up" to have a say on decision-making.
In a head-to-head meeting in Parliament for Newsbeat, Labour MP Lisa Nandy told him: "You've got to be in it to change it."
Young "don't trust" politicians according to university research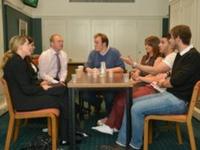 The Conservative MP Louise Mensch added: "I always quote from Josh Lyman on the West Wing, who says, 'Decisions are made by those who show up.'"
"If you sit home and don't vote, people call that a protest," she added.
"But it's not much of a protest. It lets the guys you disagree with get their way".
Lisa Nandy, Labour's Shadow Children's Minister, went on: "There is a responsibility for young people to get involved.
"If you don't put pressure on us, if you don't show up, frankly we can't hear you".
Kae, 22, from South London responded: "But you lot have got to make yourselves more marketable to young people.
"It's no good giving old people winter fuel allowance, or whatever, and cutting EMA.
"If [young people] aren't actively taking part in the political process, you've got to take it upon yourself to ask why that is."
'Untrustworthy'
Nicola, 20, from Glasgow told the MPs they were "untrustworthy" after many got caught fiddling their expenses.
"If I did that at my work," she said, "I'd lose my job, I'd go to jail, I'd never work again."
Conservative MP Louise Mensch replied: "It was indefensible, what happened in the last parliament."
Nicola also said many young people are put off politics by what they see as broken promises - most recently from the Liberal Democrats on student fees.
"The Lib Dems said they wouldn't put them up," she said, "and then they totally U-turned on that".
The Liberal Democrat President Tim Farron MP told her that compromise is often a "necessary evil" in politics, especially now his party and the Conservatives are in coalition.
"I voted to not increase tuition fees," he said, "but when was the last time any of you could make a perfect decision?"
Gesturing to Conservative Louise Mensch, he went on: "When you've got to be in coalition with people who are very lovely but who you completely disagree with, you just behave like a grown-up.
"You've got to meet them halfway. That is life."
Towards the end of the chat, the MPs agreed some politicians could do more to appear genuine.
"The best advice I ever got given by anybody was just, 'be yourself'," said Tim Farron.
Louise Mensch added: "If more of us had the guts to say, 'I'm going to present my authentic self - whatever it might be', young people might respond to us better."
"More stuff like that would help us," agreed Kae. "Just show me the real you."
Do you trust politicians? Tweet us at @BBCNewsbeat