Tulisa wins apology from her ex-boyfriend over sex tape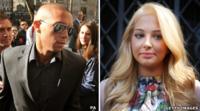 Tulisa Contostavlos said her ex-boyfriend Justin Edwards had "messed with the wrong woman" after winning an apology from him over a sex tape which ended up online.
The singer and X Factor judge was at London's High Court to accept the "sincere apologies" of Justin Edwards, also known as MC Ultra.
The rap artist initially denied being responsible.
Details of the agreement were given by the N-Dubz singer's solicitor.
Jonathan Coad said: "The invasion of Miss Contostavlos' privacy was the most severe kind imaginable.
"She suffered and continues to suffer very serious distress at this wholly unjustified and unlawful interference with her rights."
'Distressed'
Tulisa, 23, launched the legal action against her 28-year-old ex-boyfriend and others after the footage was posted on a website.
She won a High Court order in March banning publication of the clip showing her engaged in a sexual act.
The couple split up in 2009.
Tulisa, who celebrates her 24th birthday tomorrow (13 July), is continuing the action against a number of other defendants over claims they were involved in the distribution of the tape.
Her solicitor said that Justin Edwards, from London, who was not present at court today accepted all that was said on behalf of Miss Contostavlos, and had also agreed not to speak further in public about their relationship.
"She has been particularly distressed by the wholly untrue allegation made by some that she was in some way complicit with the release of the footage," Mr Coad added.
"She was not, as this statement makes clear."
'Stronger woman'
Jonathan Coad said that as a result of the case, 60 websites had been forced to remove the footage.
Outside court, Miss Contostavlos, dressed in black hot pants, a pale peach jacket and a floral top, spoke to reporters.
"I am relieved that this is finally over," she said. "It has been a very testing few months and this was not a case I ever wanted to go through.
"I stand here today a stronger, wiser young woman who has taken this experience and learnt from it.
"I am disgusted by Justin and saddened by the people that believed I released the footage myself."