Florence pulls out of Benicassim after losing her voice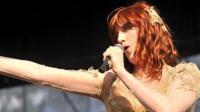 Florence Welch has had to pull out of two European festivals after losing her voice.
The singer, from the band Florence + The Machine, went on Twitter to announce that doctors have told her to rest her voice after she felt something "snap".
She was due to perform at both Benicassim in Spain and Optimus Alive in Portugal this weekend.
Florence took to the social networking site to thank fans for their support.
The singer, who performed at Radio 1's Hackney Weekend, has also apologised on her website for having to cancel the gigs.
She said: "I'm so sorry to all the fans, I was desperate to still perform, but was told without question not to, so as not to do permanent damage."
Florence Welch is not the only singer to have had voice problems.
Last year Adele had to cancel numerous appearances due to a haemorrhage on her vocal cord.
Florence + The Machine are booked to appear at other festivals this summer, including a headline performance at Lollapalooza in Chicago this August.
The band may also get their first number one this Sunday with their single Spectrum after performing well in the midweek charts.