Chris Moyles to leave Radio 1 breakfast show in September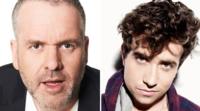 Chris Moyles is to leave the Radio 1 breakfast show at the end of September.
The 38-year-old has been presenting the show since 2004 and will be replaced by one of the station's current specialist DJs, Nick Grimshaw.
Announcing the news, he said: "We're off. I wanted to let you know. A couple more months of us, then it's someone else's turn. Thank you for listening."
Chris Moyles is contracted at Radio 1 until New Year 2014 after signing a new two and a half year deal last July.
There's been pressure on the new Radio 1 controller Ben Cooper to make the station's audience younger.
In June, the BBC's governing body - the Trust - found that Radio 1 still needed to attract more people under 30 years old.
That followed a review in 2009 which said Radio 1 should focus on serving 15 to 29-year-olds.
Ben Cooper said: "I'd like to thank Chris. Quite simply he's been the most successful breakfast show host in Radio 1 history.
"He's done it for more than eight and half years and he's been fantastic."
'Dream of mine'
Chris Moyles' successor Nick Grimshaw presents a night-time show on Radio 1 between 10pm and midnight on Sundays to Thursdays.
The 27-year-old has been presenting the show on the station since June 2009.
Before that he was the host of weekend breakfast and has also presented TV shows on BBC Two for Radio 1's former teen programming strand Switch.
He also presents T4 on Channel 4 on Saturday and Sundays.
Originally from Oldham, he began his career on student radio at Liverpool University.
Talking about taking over as Radio 1's breakfast show host, Nick Grimshaw said: "I'm super-excited to be hosting the iconic Radio 1 Breakfast Show, it's been a dream of mine since the age of 11 and to be honest it hasn't really sunk in yet.
"I love Chris and have always looked up to him as one of the best broadcasters ever."
Ben Cooper has already made changes to the schedule including switching Greg James, 26, to Radio 1's main afternoon show from 4-7pm.
Greg James replaced 39-year-old Scott Mills, who was moved to the 1-4pm slot.
DJ Gemma Cairney, 27, was moved across from digital sister station BBC Radio 1xtra to present a weekend show on Radio 1.
Controversies
The Chris Moyles show has just over 7.10 million listeners, according to latest official radio figures (Rajar) compared to 7.52 million listeners this time last year.
Radio 1's overall listeners went from 9.73 million in 2004 when the show started to a high of 11.82 million in 2010.
He's now in talks with the station about fronting a new show.
The DJ launched an on-air tirade against the BBC in September 2010, claiming he had not been paid for two months.
The discussion about his salary lasted around 25 minutes and included an appeal to the BBC's director general, Mark Thompson, to sort the situation out.
He also revealed on air in 2009 that he'd taken a 20% pay cut because of cost-cutting at the BBC.
Breakfast DJs
The DJ became Radio 1's longest-serving breakfast presenter in September 2009, breaking the record previously set by Tony Blackburn.
The self-styled "saviour of Radio 1" joined the station as early breakfast presenter in 1997 before taking over the main afternoon show in October 1998.
He then took over from Sara Cox on the breakfast show in January 2004.
The Chris Moyles Show has won two Sony golds, the Oscars of the UK radio industry.
In March 2011, his 52-hour show broke the record for the longest-ever radio broadcast and raised £2.4million for Comic Relief, although that record has since been broken again.
Chris Moyles is to play Herod in a UK tour of Lord Andrew Lloyd Webber musical Jesus Christ Superstar starting in September.
The star also presents the Chris Moyles' Quiz Night, which is now in its fifth series on Channel 4.
He's also co-hosted dating show The Love Machine alongside Stacey Solomon for Sky and has released two autobiographies.