What are the big releases still to come in 2012?
10 July 2012

From the section

Music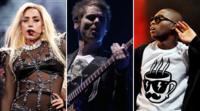 Last week the official charts company announced the biggest selling albums of the year so far.
Adele's 21 continues to be the LP that will not stop selling. She topped an all-female top three completed by debuts from Emeli Sande and Lana Del Rey. Ed Sheeran and Coldplay closely followed them.
But as we enter the second half of 2012 Newsbeat's music reporter Greg Cochrane takes a look at some of the the big releases still to come.
MUSE - THE 2ND LAW - SEPTEMBER
Not many bands can claim to start their new album's promotional campaign by using the Olympics as a diving board, but that's exactly what Muse have done their official theme song Survival.
After all the gold medals have been dished out they'll release their sixth studio album - the Devon rockers have already talked about how it'll be "groove-based" and will showcase "lots of different faces".
The accompanying tour for their last album, The Resistance, featured pneumatic platforms and an inflatable actual UFO. Where Muse go from there is anybody's guess.
LADY GAGA - Title and release date to be confirmed
According to rumours online the finishing touches are being put to the follow-up to Born This Way as Gaga's Born This Way Ball world tour wheels around the globe.
She says her record label have already heard some of it, her manager's described it as "insane" and she's played one new track (Princess Die) in Australia recently.
Little Monsters may get to hear it before the end of the year.
PLAN B - ILL MANORS - 23 July
Anyone who saw Ben Drew's recent directorial debut Ill Manors will know he's not afraid to highlight the murkier side of life.
He could - and probably will - alienate some fans who discovered him via his conceptual soul album The Defamation Of Strickland Banks with this new release.
The collected of songs, taken from the movie, see him return to his grittier, confessional hip-hop roots writing about some controversial subject matter.
LITTLE MIX - Title to be confirmed - AUTUMN
After seventh months of grafting the winners of the 2011 series of X Factor will release their debut later this year.
Fans have been given a taste of what to expect with debut single Wings.
The benchmark for success has well and truly been set with the global domination achieved by One Direction across the world this year.
BIFFY CLYRO - Title and release date to be confirmed
Biffy Clyro have said their decision to release a double-disc album is an antidote to the current wave of chart-obsessed singles artists. They want to give their fans something more meaty to get their teeth into.
And there was plenty of flesh on the bones of the riffy new tracks they've debuted at summer appearances so far.
The trio aren't the only rockers looking to make a mark this autumn - The Killers, Bloc Party and Green Day (releasing the first in a trilogy of albums) are all returning with LPs.
CALVIN HARRIS - Title to be confirmed - 29 October
This time last year Calvin Harris told Newsbeat he wanted to release four singles before his next album.
And what a run of singles - We Found Love featuring Rihanna, Cheryl Cole's Call My Name and, his own club banger, Feel So Close.
Next up it's a track with Example and a rumoured collaboration with Ellie Goulding.
It's what promises to be the most hit-packed album of 2012.
TINIE TEMPAH - DEMONSTRATION - Release date to be confirmed
Tinie is currently keeping his second album under lock and key - literally.
The only clues fans have had is the pair of tracks he's debuted at this summer's festivals.
"It's not so much about touching specific political aspects it was more capturing more the mood of the people at this time," Tinie recently told us about the album's subject matter.
ROBBIE WILLIAMS - Title and release date to be confirmed
Robbie Williams probably needs to get a wriggle on if he wants to beat Take That to another release. They've already spoken about following up Progress by summer 2013.
Last year it was announced that Robbie had signed a new record deal with Universal after leaving EMI and would release his ninth studio solo album this year.
No word on the Gary Barlow-produced release yet though.