Dev Patel 'prepared' for The Newsroom critics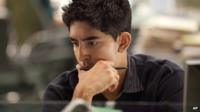 Actor Dev Patel says he was prepared for controversy and criticism of his new show, The Newsroom.
The 22-year-old told Newsbeat it was inevitable because of its "unapologetic" nature: "We're going after the media as an establishment and Aaron [Sorkin] is not pulling punches."
Dev plays blogger Neal Sampat in the HBO show, which depicts life in a fictional TV newsroom.
The show opened to mixed reviews but a second series is already in the works.
"It is controversial and it has an opinion, which makes for good television," says the London-born actor, who admits "the critics were pretty ruthless".
"However, when the show came out 2.1 million people saw it. From a viewership point of view we're doing pretty well."
Dev says the writer of the series, Aaron Sorkin, the man behind The West Wing, prepared the cast for a tough reception.
"[He] prepped us on how controversial the show would be and how the opinion was going to be."
The actor also compares the show with his other breakthrough roles, Skins and Slumdog Millionaire, and believes it's equally "edgy".
In the opening episode, the channel's news anchor played by Jeff Daniels has a "meltdown" and lashes out at America, says Dev.
'Ludicrous interviews'
His character in the series was recruited after showing his skills covering the 7/7 London bombings on his camera phone and now writes a blog for Daniels, as well as scouring the web for stories.
Based around real events, like the Gulf of Mexico oil spill, The Newsroom shows the tension between different ideas of what qualifies as "news".
"You learn that in the old days what was newsworthy was something that people needed to know," says the actor.
"Now what's newsworthy is what people want to know - it's two different things.
"But at the same time you've got these reporters who are going against it, taking the harder route and trying to feed the nation great news and risking losing a massive audience."
Despite his insight into the world of news, Dev admits still being surprised at the stories about him and his girlfriend, Slumdog co-star Frieda Pinto.
"You do these most ludicrous interviews and you're surprised at what people actually want to know.
"I think 'really?' Does someone want to open a newspaper and read the stupidest things - where I go to the gym or what me and my girlfriend want to eat. It's crazy."
The Newsroom debuts in the UK on Sky Atlantic on 10 July.