Wakestock music festival first in UK to use microchips
9 July 2012

From the section

Music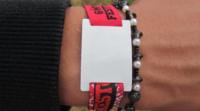 Wristbands fitted with microchips have been worn by everyone at a UK festival for the first time.
The technology, which designers claim will cut out fake tickets and queues, was used by 15,000 festival-goers at Wakestock, Cardigan Bay, Wales.
Organiser Stuart Galbraith said: "The benefits are huge. This will be the future of festivals."
Critics, however, have said they are "uncomfortable" to wear and go against the spirit of festivals.
Cleaner experience
The bands look like standard material festival bands except they're fitted with an RFID (radio frequency identification) microchip, the same technology as London's Oyster card public transport swipe cards.
Festival-goers are scanned in and out of areas at the site with either turnstiles or hand-held devices, with organisers able to monitor the data.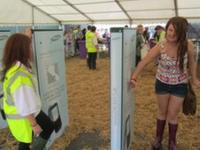 It's been used at big festivals in North America and one-off shows in the UK before, including at a recent Red Hot Chili Peppers concert at Knebworth House in Hertfordshire.
The same technology was also available to groups of festival-goers at Isle Of Wight and Wireless.
Designers claim the advantages to fans are that they can pre-load them with money to pay for food and drink, check into social networks and ensure they have a "cleaner experience".
The microchips can be cancelled if they're lost or stolen.
Stuart Galbraith said the main benefit for him was knowing exactly how many people were on site, but admitted that the technology was "fairly expensive" to have installed.
"The only reason we're able to use it this year is because we've had a commercial sponsor cover the cost," he said. "As it becomes wider, it'll become a lot cheaper."
'Too commercial'
He denied that the cost would be passed onto ticket buyers in the future.
Galbraith said that over the next few years he was keen to have his event go mobile doing away completely with tickets and wristbands.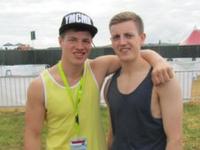 Some smartphones with the same technology have recently become available on the market.
One other festival organiser known to be considering the technology is Glastonbury's Michael Eavis.
In January, he told Newsbeat he thought the technology was "incredible" but said he was worried about it making festivals "too commercial".
Ed Sheeran, one of the headliners at Wakestock, agreed.
He said: "It's always good to try and push the boundaries of technology but I don't know if it'll work with festivals. Festivals work without technology."
Some fans have also expressed concern their movements may be tracked around the site, something designers deny.
Arriving on site at Wakestock, festival fan Rob Davenport, 19, from Bolton said: "It's just a lot quicker and easier for everyone. I hope it catches on. I don't see any drawbacks.
Not all festival-goers were entirely convinced, though.
Simon Wallace, 17, from Torplay said: "I think people are confused by it. It's a bit uncomfortable and there needs to be more information about what it can do around the site. Some leaflets or something."