Dappy 'didn't want to cause upset' over new video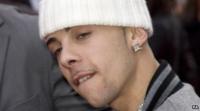 Dappy has said he didn't mean to "cause any upset" after calling for the release of the man who killed head teacher Philip Lawrence.
The video for the rapper's new song Tarzan 2 features a message, "Free Leo Chindamo", in the opening credits.
The video also states: "The views and opinions expressed in this video are those of the artist only."
The 25-year-old later tweeted he "honestly wasn't aware" Chindamo had been convicted of Lawrence's murder.
Dappy, who's real name is Costadinos Contostavlos, also calls for the freeing of a number of other people in the video.
"Just wanted to say I honestly wasn't aware he [Chindamo] did that, I knew his brother from when I was young," he wrote on Twitter.
"In no way did I intend to cause any upset and I didn't know about his past.
"My heart goes out to [Mr Lawrence]'s family," he added, "and I know too well the pain of losing a loved one."
Tarzan 2 was released on July 3.
A spokesperson for the rapper said the video has been taken down and will be re-edited without the reference to Leo Chindamo.
The spokesperson added that Dappy would be donating all his personal royalties from the track Tarzan 2: I'm Coming, to crime reduction charity, NACRO, the charity which supports the Philip Lawrence Award each year.
Learco Chindamo was 15-years-old when he stabbed Philip Lawrence to death outside a school in west London in 1995.
He was sentenced to life in prison with a minimum of 12 years.
He was released on licence but was sent back to prison for breaching its conditions.