The Hobbit movies finish filming, says Peter Jackson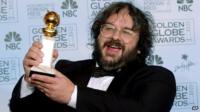 Filming for the new Hobbit movies has finished, according to their director Peter Jackson.
He revealed the news in a post on his Facebook page.
It said: "We made it! Shoot day 266 and the end of principal photography on The Hobbit.
"Thanks to our fantastic cast and crew for getting us this far, and to all of you for your support! Next stop, the cutting room. Oh, and Comic Con! Cheers, Peter J."
Filming of the two Hobbit movies - The Hobbit: An Unexpected Journey and The Hobbit: There And Back Again - started in March 2011.
The first is due for release in December and is set 60 years before the Lord Of The Rings trilogy.
They were written by J.R.R. Tolkien in the 1930s.
In the story Bilbo Baggins, played by British actor Martin Freeman, tries to reclaim the lost Dwarf Kingdom of Erebor from Smaug, the dragon.
Elijah Wood, Orlando Bloom, Cate Blanchett and Sir Ian McKellen, who all starred in Jackson's Oscar-winning trilogy, also appear in the movie.
The second film is due out in December 2013.
There was a mixed reaction after 10 minutes of footage was released earlier this year.
Some critics said it "looked like a made-for-TV movie".
The 3D film has been shot at a rate of 48 frames per second, compared with the industry standard of 24 frames.