Legal high warning at T in the Park music festival
6 July 2012

From the section

Music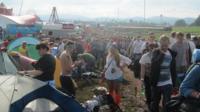 Organisers at this year's T in the Park say festival-goers should avoid taking legal highs "at all costs".
Scotland's biggest festival takes place at Balado in Kinross-shire this weekend.
The warning follows the death of a teenager at the RockNess festival in the Highlands last month.
Nineteen-year-old Alex Heriot was reported to have taken a substance known as Benzo Fury at the Dores event, close to Loch Ness.
Geoff Ellis, festival director of T in the Park, said: "Legal highs are not made for human consumption, they're dangerous and people should avoid them at all costs."
BBC Weather: Rain warning for Saturday
'No tolerance approach'
Traders at the festival have been banned from selling legal highs for the past four years.
Mr Ellis said drugs would be confiscated if they were found during searches.
One festival-goer, who wanted to remain anonymous, said he'd tried Benzo Fury.
"It puts you on cloud nine," he said. "But the come-down is horrific, horrible. It is not a nice thing at all."
Superintendent Rick Dunkerley of Tayside Police said T In The Park becomes "Scotland's fifth biggest city for the weekend".
"This is no different from the streets of Scotland all year round," he added. "We have a no tolerance approach to drugs and will be robustly dealing with people."
It comes as the Association of Scottish Police Superintendents (ASPS) calls for the power to confiscate legal highs in the same way they can do with alcohol.
The categorisation of legal highs is complex as the chemical make-up of them is constantly being manipulated.
This means as soon as one is made illegal, another with a slightly different compound can take its place.
Chief Superintendent David O'Connor, president of ASPS, said: "We have this strange situation where we can seize alcohol from young people but if you find them with drugs, not prescribed or over the counter, you don't have a firm legal footing to deal with it."
He has discussed the possibility of changing the legislation with Scottish Justice Secretary Kenny MacAskill.
Eighty-five thousand people are expected at T In The Park to see bands and artists including Snow Patrol, the Stone Roses, Kasabian and Calvin Harris.