Little Mix 'feel no pressure' after One Direction success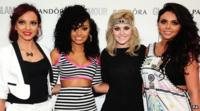 Former X Factor winners Little Mix say they feel no pressure to keep up with the US success of One Direction who came third in the competition.
"I wouldn't say we feel pressure, if anything they've opened the gates for us," said Jesy.
The singers all started out auditioning separately for X Factor but the judges decided to put them together for the group category.
Little Mix were the first ever group to win.
The girls were asked if they now felt under pressure that One Direction were doing so well in the US. "We are two very different groups," said Jesy.
"It's really hard to crack America and the fact they've done it is amazing."
The girls admitted X Factor was a nerve-racking time for them. They distinctly remember singing to Simon Cowell for the first time.
"We were sitting outside his office, it was like meeting the headmaster. As soon as we saw his foot tap we were woooooo he likes it," Jesy said.
Three of the girls have gone public with their boyfriends.
Jessie and Jade are dating two members from Britain's Got Talent winners Diversity.
Jesy has known her boyfriend, Jordan Banjo from the dance troupe, since she was 11.
"I used to dance with them," she said. "He's my best friend."
She also revealed that she had introduced Jade to her boyfriend from Diversity.
"To cut a long story short, Sam (Craske) is my friend as well and I introduced him to Jade," she said.
"Then we all went on a little double date and the love just blossomed between them."
There can't be too much rivalry between One Direction and Little Mix, because Perrie is going out with 1D's Zayn Malik.
When asked how she dealt with jealous fans, Perrie said: "I just think it comes with the territory of being in this industry.
"You just have to like it or lump it really. You have to get on with it. If it's worth it, you'll make it work."